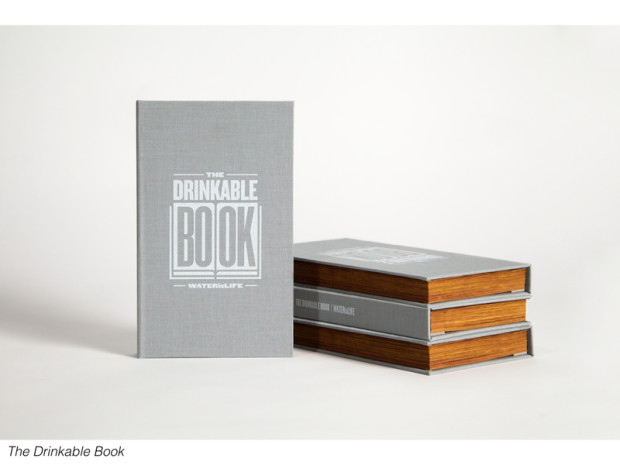 The most recent United Nations figures are that

663 million people

do not have access to clean drinking water.

As a result,

m

ore than 3.4 million people die every year from diseases caused by bacteria in water

.

The silver nanoparticle filter paper technology in the Drinkable Book was

invented

by Dr. Theresa Dankovich for her Ph.D.

research

at

McGill University

to try to help with this problem.

This groundbreaking book puts a life-saving solution directly in the hands of people who need it most.
A book that is not quite one. The pages are coated in silver nano particles that kill 99.9% of bacteria like typhoid, cholera, and E. coli. Every page you tear from the book serves as a filter that you place in a pan (which doubles as the book's case). Pour contaminated water through the filtered pan, and what comes out is safe, drinkable water.

It's educational. And multilingual.
On each page of the book are tips on simple measures (printed in food-grade ink) that folks can take to decrease the chances of contamination and ensure drinking water is clean. You can only use the pages once, but the knowledge they give can last forever.
Dr. Theresa Dankovich
is currently crowdfunding on Indiegogo. Find out more here